AiP Thermoform Packaging specialise in the design and manufacture of "Technical Packaging Solutions" for the Medical,  Electronic and Retail sectors.
With two decades of experience supplying the Irish market, AiP has developed a wide range of products from blisters, to procedural trays for the Private SME to the Multinational.
Thermoform Packaging Materials
Thermoform insert trays are used as part of product presentation, they can also provide security during shipping of the items packed ensuring that the product remains firmly fixed in its correct presentation position. 
It can add to the cosmetic appeal of the pack using a variety of materials, colours and textures.  
Typical materials used in manufacturing are HIPS, ABS, HDPE, PVC, PET, PETG, PVdC, OPS and complex laminate barrier films.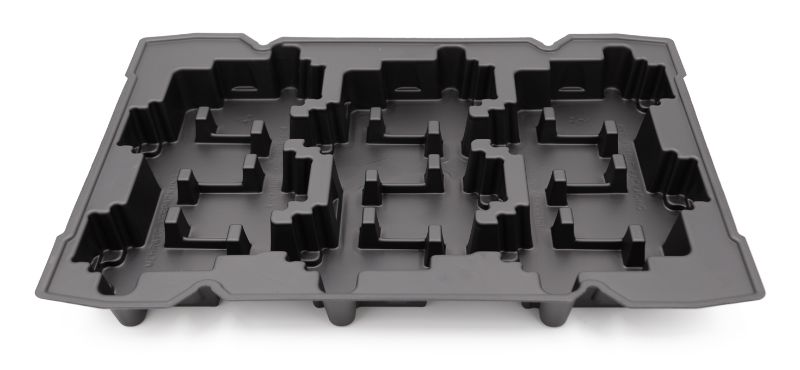 Thermoform Packagaing Trays
Thermoform Packaging Raw Materials
Polyethylene terephthalate (PET) is a form of polyester as used in clothing.  This material is widely used for food and retail packaging in clear format and is suitable for sealing either to increase shelf life or for security at the point of sale.  This material is fully recyclable and is widely used with a percentage recycle content. 
High Impact Polystyrene (HIPS) is a versatile, economical and impact-resistant plastic that is easy to machine and fabricate. HIPS is often specified for low strength structural applications when impact resistance, machinability, and low cost are required.
Polyvinyl chloride(PVC) is a solid plastic made from vinyl chloride. It is made softer and more flexible by the addition of phthalates for use in packaging.  This material was commonly used in the past, however, in more recent years has become less popular.
Acrylonitrile butadiene styrene(ABS) has high tensile strength and is very resistant to physical impacts and chemical corrosion, which allow the finished plastic to withstand heavy use and adverse environmental conditions.
Oriented polystyrene (OPS) is produced by stretching extruded PS film, improving visibility through the material by reducing haziness and increasing stiffness. This is often used in packaging where the manufacturer would like the consumer to see the enclosed product. Some benefits to OPS are that it is less expensive to produce than other clear plastics such as polypropylene(PP), polyethylene terephthalate (PET), and high-impact polystyrene (HIPS), and it is less hazy than HIPS or PP. The main disadvantage to OPS is that it is brittle and will crack or tear easily.
Polypropylene(PP) is a thermoplastic polymer used in a wide variety of applications including packaging.  The density of (PP) is between 0.895 and 0.92 g/cm³ and is therefore the commodity plastic with the lowest density. For thermoform trays PP is normally used for basic tray designs as warpage can be a problem.